There are plenty of great web hosting companies in Singapore that can help you in getting your business online. Whether you're just getting started with your website or you're looking for a new provider, you need a web hosting company that secures your business' online presence, and your information, as well – along with many other features that can make your web hosting experience a breeze.

To help you choose the right one, here are four of the best local web hosting companies around that serve different needs.

Website: www.cldy.com/sg
Services: Web Hosting, VPS Hosting, Email Hosting, Domain Registration or Transfer, and more
Clientele: Recruitexpress, Kenny Rogers Roasters, Changi Airport Group, Shake Shack, and more
When it comes to web hosting, you want a plan that strikes the perfect balance between cost and performance. Luckily, you can have the best of both worlds with CLDY's Singapore web hosting services powered by C3.gen Technology. You can build your own website domain, and add additional subsidiary domains to further boost your market.
CLDY offers a variety of web hosting services that are designed to meet the needs of both small and large businesses. The core of CLDY is best highlighted with the 5S: Speed, Security, Stability, Simplicity, and Support. As a top web hosting company in Singapore, you can ensure that your data is stored and secured with top-tier, global-standard web hosting services. And for any queries, you can contact their 24/7 highly personalised service support if you ever hit a roadblock, or just need an old-fashioned hosting guide.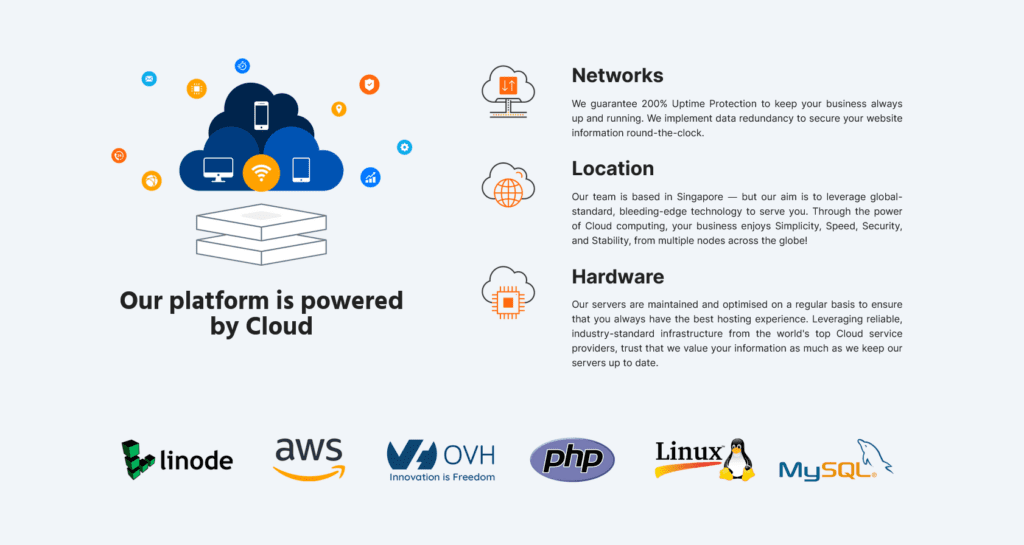 This screenshot is from CLDY's website
Take a look at CLDY and why it is considered one of the best web hosting companies in Singapore.

Website: www.kinsta.com
Services: WordPress hosting, agency hosting, enterprise hosting, and more
Clientele: Pronto Marketing, ClickUp, Red Factory, Intuit, and more
If you're looking for reliable High-speed WordPress hosting, then Kinsta is a great choice. They have been providing high-quality web hosting services since 2013, and large organisations like Intuit trusts Kinsta's services to make sure their WordPress sites always have fast page speed performance.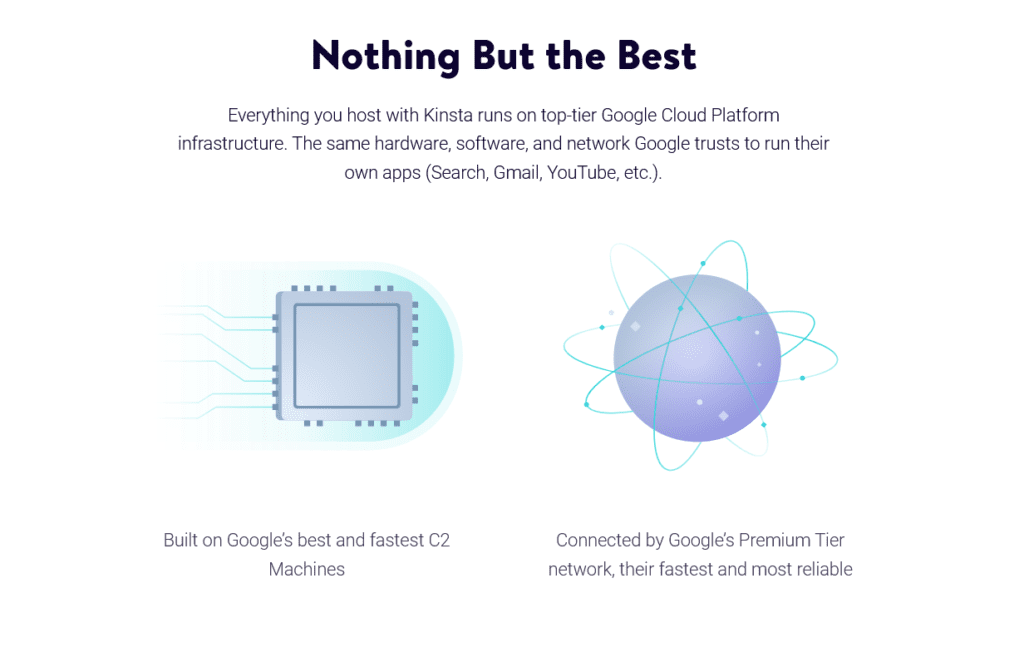 Through their partnership with Google Cloud Platform, along with having a first-class team of WordPress developers in the industry, they have ensured their clients a no-hassle site management so you can focus more on running your business.
Their premium hosting features include top-tier infrastructure, custom plans with dedicated virtual machines, additional PHP workers, and reverse proxy, Cloudflare enterprise-grade protection, and 24/7 support from experts. We like the site cloning feature they provide for us to quickly setup a staging environment test new features and modules before pushing to the live site.
You can consider Kinsta if you're looking for high-speed wordpress hosting on the Google Cloud Platform severs.

Website: www.entrustnetwork.com
Services: Virtual Server Cloud Hosting, IT Management Services, Wireless Network Solutions, and more
Clientele: Hirata, FirstCom Solutions, Prudential, Natureland, Tsubaco, and more

Entrust Network has been providing trusted business hosting services since 2006, and in that time they have amassed an impressive clientele list of over 200 SMEs. Their focus on security and reliability has made them a renowned provider of cloud hosting services, and their comprehensive suite of features helps businesses to get the most out of the cloud.
Entrust Network's commitment to customer service is evident in their 99.5% uptime guarantee and quick response times to support requests. With Entrust Network, businesses can be confident that they are getting a reliable and trustworthy cloud hosting service.
A look at their clientele list shows they support a diverse range of industries with their solutions: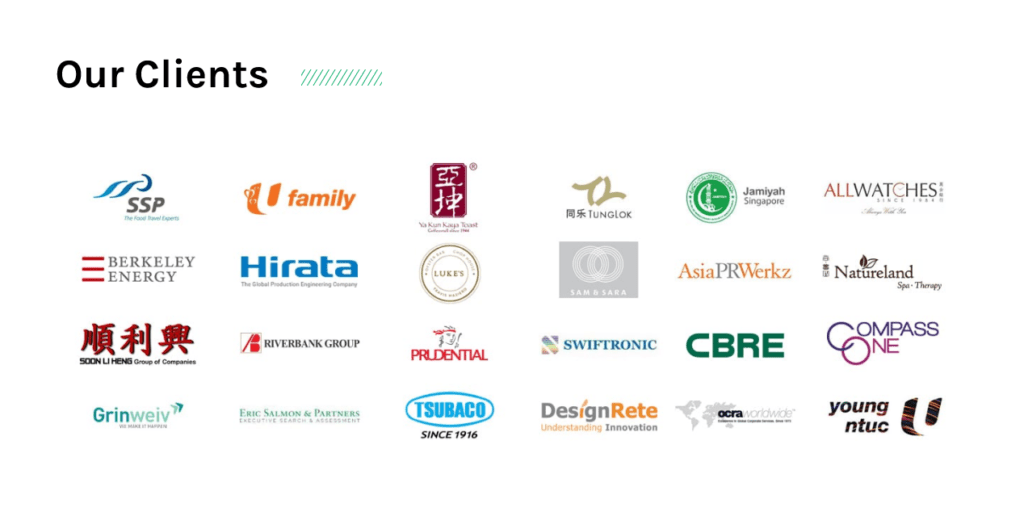 This screenshot is from Entrust Network's website
They stand out by being an IT Managed Services Firm that provides hosting along with their full suite of managed services that allow companies to outsource their IT fully to them, ranging from end-user helpdesk, IT outsourcing, cloud and networking solutions, cybersecurity and IT consultancy and more.

Website: www.vodien.com
Services: Web Hosting, WordPress Hosting, Domain Registration, Domain Transfer, and more
Clientele: FirstCom Solutions, Mummys Market, Legacy Dance Co., and more

Looking for the best website hosting service that is reliable and high-performing? Vodien is another excellent option. Founded in 2002, Vodien is one of the longest running web hosting provider in Singapore, supporting over 35,000 companies and 210,000 users. They offer a comprehensive range of web hosting solutions, including website and email hosting, as well as servers, colocation, security and connectivity.
All of their web hosting plans come with 24/7 support from their team of experts, so you can get your questions answered quickly. Choosing Vodien as your Singapore hosting company, whether you're a small business or a large enterprise, will put you on the right track.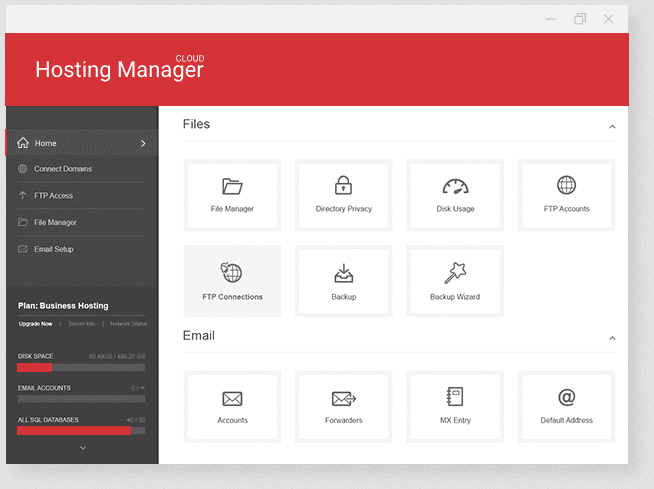 This image is taken from Vodien's website
You can manage your website in one place with their easy-to-use Hosting Manager control panel. The online support team has always been responsive and competent whenever we assist clients to get support from them.
If you are looking for top local web hosting companies in Singapore, we recommend the four companies listed above.
We have worked with all the companies listed above and they have a wide range of services to meet your needs. Here at SBWD, you can speak with us on your site requirements, and we can recommend which hosting service provider and plan to go for.