WordPress is the most widely used content management system (CMS) in the world today. Some facts and figure about WordPress can be found below.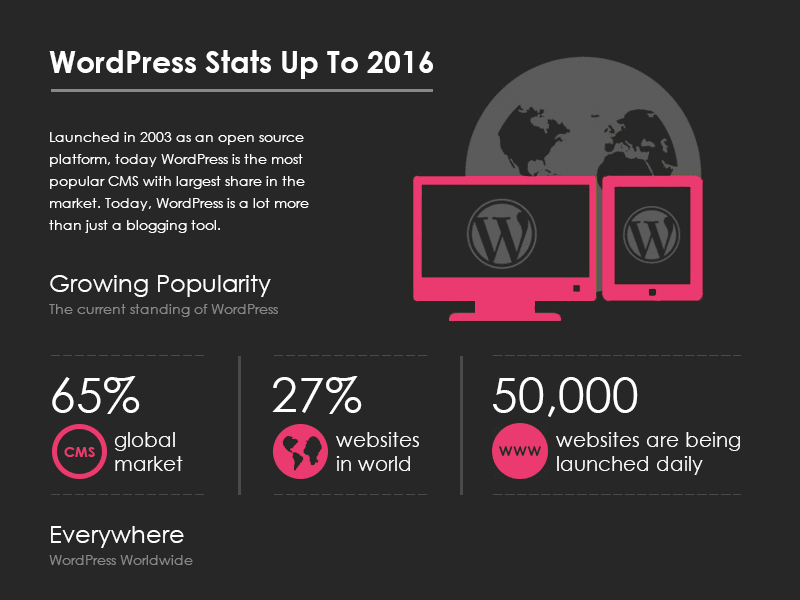 So what does this mean for business owners? Why would WordPress, which was widely known as a blog platform, become the best choice for your company website or ecommerce website?
Design and develop ANY Website with WordPress
Because WordPress is so widely used, there is an unlimited range of themes and plugins available for SBWD to increase your website functionality. With WordPress, SBWD has developed various corporate websites with extended features.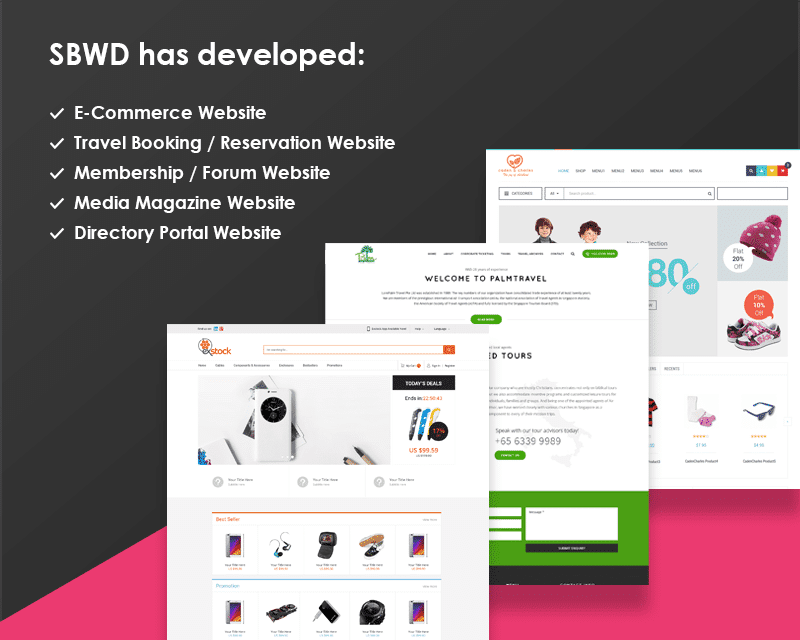 WordPress makes it easy to manage your Website.
A content management system (CMS) allows people with no programming knowledge to make changes to their website. WordPress is an intuitive CMS that can let you easily change almost every component of your website.
Updating of your website banner
Adding of new pages
Updating your website menu buttons
Changing of contact information
Changing of images and content
Uploading new videos / pdfs
Adding new products and services
Posting news / blogs / articles
Updating portfolio / projects
Updating of footer content
All of the above can be done with a quick training session and basic user guide from SBWD that is included in our web packages.
WordPress websites are SEO-friendly.
All search engines have a set of pre-defined parameters that websites to fulfill to improve on their web rankings. With WordPress, SBWD will be able to get your website to fulfill most of these parameters. Further SEO work can be done by installing SEO plugins to better improve your search engine rankings.
SBWD provides web design with SEO in mind. We will ensure that standard SEO parameters such as XML Sitemap, Image Optimisation, Proper Headings and Meta Tags, Social Media Integration, Page Loading Speed etc.  are fulfilled with all our customer's websites.
WordPress ensures you can find support anytime, anywhere.
Approach any web design firm if they know how to develop in WordPress and the answer will be an immediate YES. Building your website in a universally used platform will ensure that you can get support for your website anytime. It will also help keep your cost to update or fix your website competitive and will ensure that there will be a solution to almost any feature or module you want to add onto your website.
SBWD has been developing websites since 2009 and have successfully delivered over 100 WordPress websites to date.
Contact us if you are looking to get an awesome website done for your business.